Active member
Equipment
B2650, Pronovost snow blower, Landpride rotary mower, Howard tiller, box blade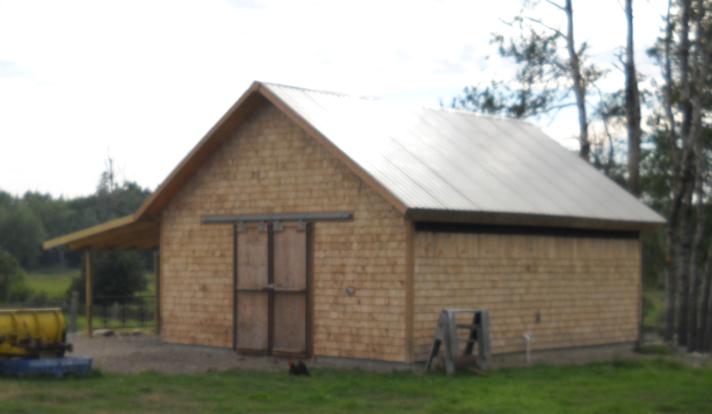 I built this tool shed about 10 years ago. The enclosed area is 20x24. In the back left corner there's a 8x10 room that's being used as a chicken coop.
I have decided that it's time my tired old bod had a heated shop. I've been working out of an unheated 12x24 stall in my garage for 30 years and I'm tired of freezing my appendages off all Winter. I had hoped to build a new building from the ground up but can't get what I want for under $50,000 and that's just stupid at my age.
So, after flailing around for a month trying to decide what to do, I decided to insulate and finish the inside of this building. That will include moving the birds into other facilities and using that space for the air compressor, oil tank and furnace. I'll also need to hang a ceiling and insulate that and replace those sliding barn doors with a double entry door.
I'll also have to set a pole and have the local utility pull a line down from the road. I have an electrician lined up to put up the weather head, meter box and main panel and I'll wire the inside myself. Plan is to insulate and install drywall and run the outlets and lights via EMT and surface-mount boxes. Makes it easier to insulate and add drops as the need arises. There'll be two 220 runs, one for the welder outlet and one for the air compressor. Lights will be all LED.
Of course a project like this is full of "but first I gotta" jobs. Today I cleaned out the shed on the end of the barn ell that will become the new chicken coop. Gotta form up around the bottom to pour a new floor, close off the back side Dutch door and replace the front Dutch door with an entry door. I'll get the new coop all set up and then pull up all the fence from the old chicken yard and move it to the new chicken yard and then move the birds.
Lumber, insulation and drywall are going to run about $5000. I need 9 20 foot long 2x6's to make ceiling joists and right now they're $50 apiece and that's not going to go anywhere but up.
I'll make a list tomorrow and Monday I'll order everything but the drywall (no place to store it) and get it here before the June 1st price increase the contractor sales guy warned me about. My last job before retiring was working at the outfit I'll be buying my materials from so they'll treat me as well as they can.
If anyone is interested, I'll post pictures as I go along.