Well-known member
Lifetime Member
Equipment
L35 Ford 3930
Mar 24, 2020
1,063
416
83
Here's what I think I saw on your first repair. Kind of looks like the TO bearing might have walked off the finger.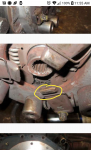 Maybe it's the camera angle or the lighting (or my eyes), but something doesn't look right with that finger.
In any case, hope you've found the problem. Too bad you'll have to split it again, but this should last a while.