Well-known member
Equipment
B7100HSD, B2789, B2550, B4672, 48" cultivator, homemade FEL and Cab
Jun 10, 2016
2,444
700
113
I realize I'm resurecting a 5 year old thread, but this is the one that both Google and the site pull up when searching for this info.

And now they're discontinued again.

Mine came with Goodyear 20.5 x 8 x 10 trailer tires on the front from the dealer. According to the original owner, it shipped with Ag tires, but he wanted turfs so the dealer switched them out. At 20psi, I measured the worn tires' circumference to be 65" even.

I replaced them with the 20 x 10 x 10 Carlisle "All Trail 2" ATV tire mentioned above. At 20 psi, I measure the circumference to be 64-3/8" -- which works out to a calculated 20.49" diameter. Tread width is virtually identical at 7", although the trailer tire sidewalls bulge considerably more on each side.

I really like the tread compared to the trailer tire.
Flash forward 6 years. I've been happy with the traction, but the sidewalls are now heavily cracked and the left one has developed a slow leak. Adding the FEL may have been a factor there. Time to replace them.
Back in 2017, I paid Amazon US$153 for the pair - a little over CDN$200. Today, Amazon.com doesn't have any and Amazon.ca wants almost CDN$300 PER TIRE!!! I found a better price at an independent Canadian supplier, but they're still north of CDN$200 each after shipping and taxes.
Holy sticker shock Batman.
Looking for alternatives, I stumbled across these
Chinese "Predator GTW/AT" brand off-road tires at a golf-cart supply
. CDN$232 for both, with taxes and shipping.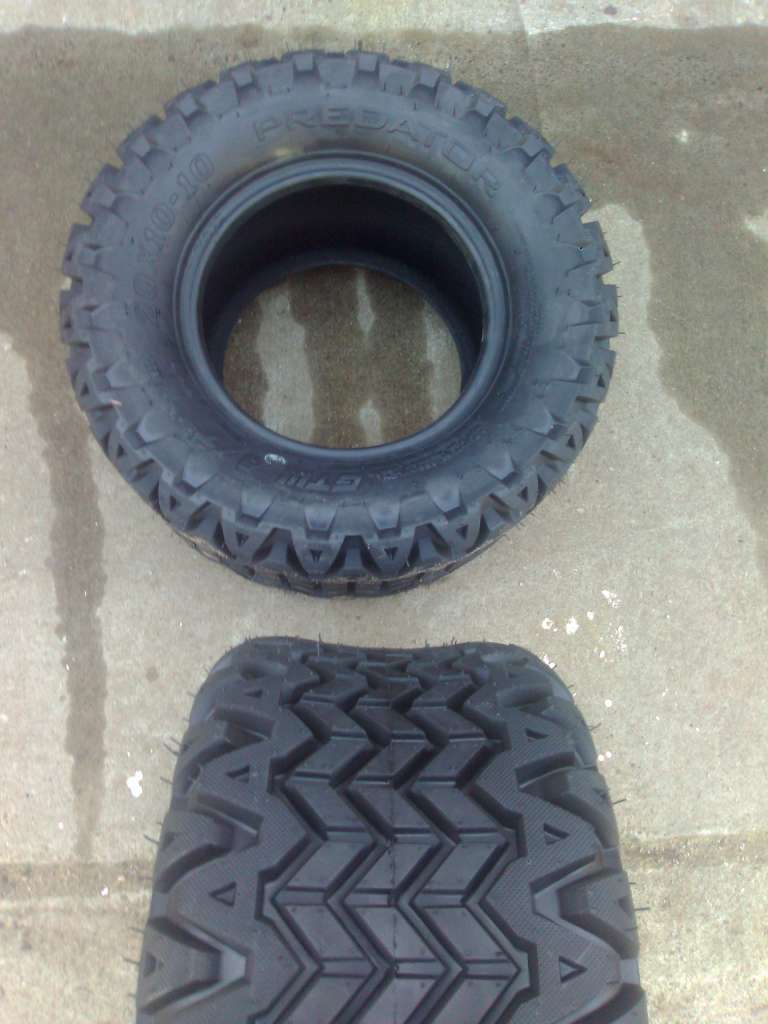 Strikingly similar tread pattern, and a claimed 818lb capacity at 12psi (the AT2s are rated 695lb@20psi). I'm not sure I entirely believe that claim, but they are 4 nylon plies so they should at least be in the neighbourhood of the AT2, right? <lol>
Anyway, I figured they were worth a try. I'll get them mounted up and measure the rolling circumference, etc. Then time will tell...