A little over two years ago, I gave my house in the suburbs and moved into the mountains. I'm 70, sold my business and did very well. I bought 18 acres with a nice house on top of a mountain. I am not near anything. Just the way I like it. And I have a view to die for.
Though we have been preppers since the 90s, we are trying to be super-preppers up here. I have named my mountain Liberty Mountain.
The only thing missing is a pond or lake. Since I am surrounded by deep ravines, the one side has a mountain spring that I can scale down to but of no practical use.
We are learning that the soil is not the best for gardening and are working on that. A lot of rock and clay. That will be questions for another post.
Presently I have about two acres of garden-able land on the top of the hill. We now have hens and are thinking of a mini dexter cow next spring. I want to clear a slope and make it a pasture.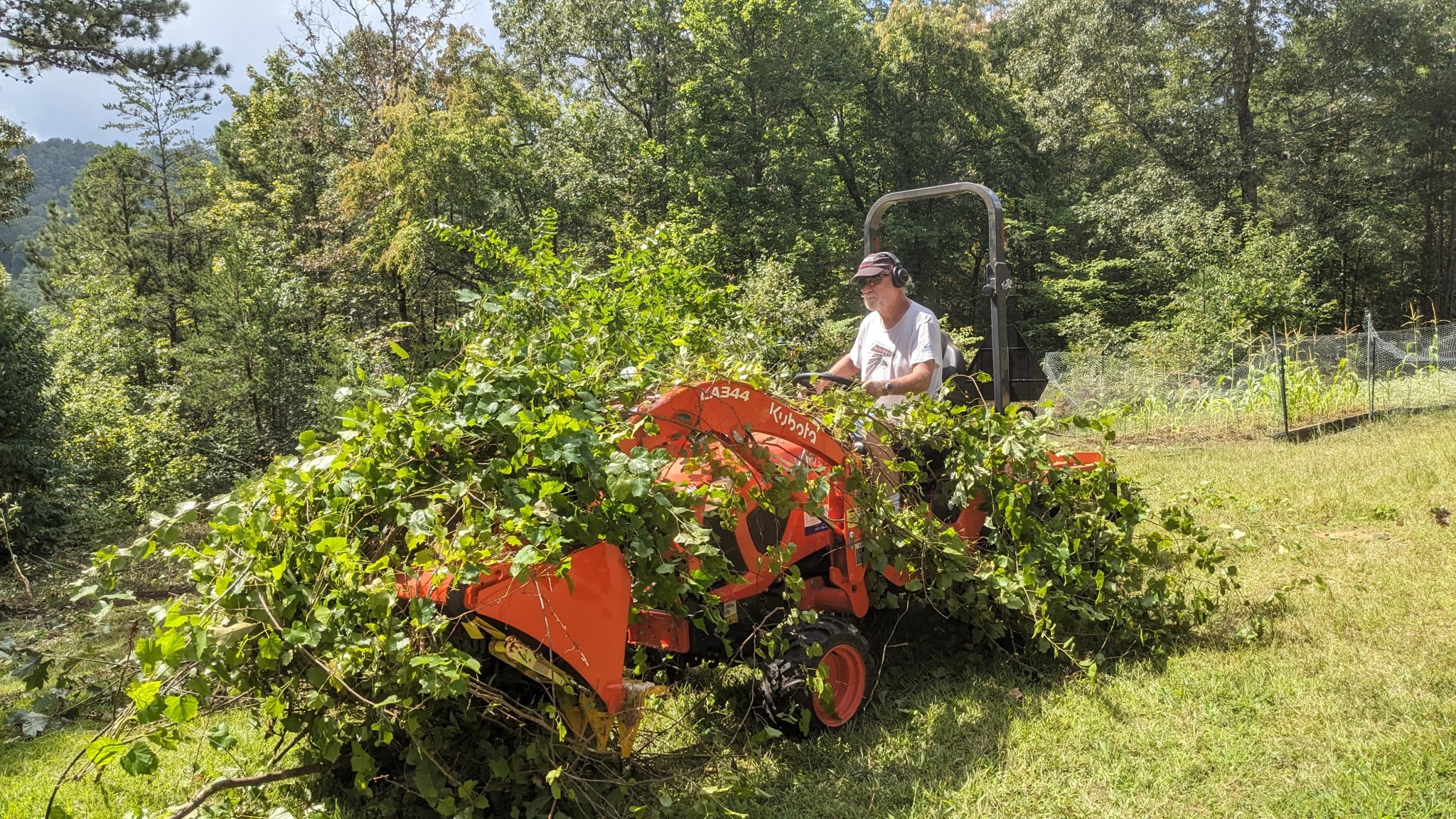 When we moved up here, I bought a new BX-2680. Over time, I add a load of toys with the harrow being the most recent. I have been blasting through the brush like an Abrams tank in the hedgerows and that seems to be working. I am chipping the brush with a DR Leaf Vacuum/Chipper. I started burning it, but the smoke kept going straight over to our honeybee colonies, so I am looking for another way to dispose the brush. Plus, we have heard that the wood chips are great for soil amendment.
While clearing the brush, I discovered that I am repeating a task that has been done before. All the samplings have been growing out of large stumps. So, after dragging you through all the above, here is the question: what best to do with the stumps?
There must be 50 of these in about one acre. I have one of those pointy stump buckets and I have tried ramming and jerking but they are anchored pretty well. I have ripped the tops with the chainsaw and have split them with an axe, but progress is slow and draining. Because of the slope I am limited to the angels I can attack the stumps because I fear tipping.
I saw on YouTube about adding Epson salts to the surface and I guess it is supposed to accelerate decay or something. I would prefer to remove them but would accept making them flush but that creates future sink holes and I have a lot of them already due to rotted trunks collapsing.
I'm retired military and have a lot of experience with operating machinery but I am just coming up on 50 hours on the Kubota, so I have a lot to learn.
And I guess my other question is: can a field that was once thick brush and huckleberry bushes be converted into a cow pasture for one small cow? What has to be there to make it a pasture?