Well-known member
Lifetime Member
Equipment
1979 B7100DT Gear
May 19, 2011
5,537
483
83
When it comes to Craigslist, I am always a day late or a dollar short, but I still look when I can.
I'm always looking to add to my shop, and was surprised a few months ago to find a 12" sheet metal shear listed.
I called on it, assuming it would be sold, vastly overpriced, on the other side of the world, or all of the above.
Imagine my shock when it was
still available
, (posted 45 min earlier) was
3 blocks from me
, and the price was
$250
.
Jumped in Lil Foot and was there in less than 5 mins.
Imagine my further shock when I immediately recognized it. It was from the old Sperry machine shop where I did my apprenticeship and my 1st 10yrs of machining. It was even modified by me back in the old days.
Note the S.F.S. asset tag- (Sperry Flight Systems). (1st pic)
In the 2nd pic, you can see two 1/4-20 button head cap screws holding the side gauge. The third screw is a 3/8-16 allen head cap screw installed by me in about 1982-3. Someone had removed those three 1/4-20 screws and stripped the thread on the last one, so they attempted to Helicoil it, but broke the tap off in the hole. After drilling some side holes in a failed attempt to remove the broken tap, the butcher gave up, and his boss called on me to clean up the mess. (a common occurrence in those days)
I had to upsize it to 3/8-16 to clean up the hole, and when I get a chance, I will replace the cap screw with a button head again.
Anyway, the seller did not remember the name of the guy he got it from, (I probably knew him) and I bought it for $200. It is missing the back gauge, (common) and the hold down clamp, (even more common) and was dirty and had some cosmetic surface rust, but otherwise it's in excellent shape. It is a DiAcro-Houdaille #3, and weighs 168lbs.
After clean up, (rust removal, grease & dirt removal, replacing bolts, nuts washers, setscrews) I needed a stand with casters to put it on, so I went to work.
I bought some very heavy casters at an estate sale for $5, and a still boxed HF machine stand at another for $20.
I went to the recycled/repurposed stock stash and found a large round plate to cut up for the top plate, and another large piece to form the basis for the bottom plate. The bottom plate was actually made from (4) pieces. Machined some 12 degree blocks to bolt the legs to, and put it all together. Stand is VERY rigid, and rolls smooth & quiet, brakes work great also.
I'm pretty pleased.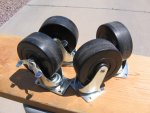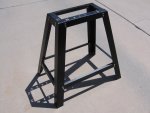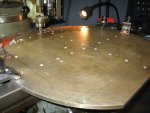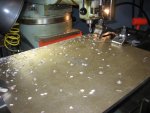 Last edited: