New member
Equipment
Bulltra b1-15
ill check the colours if they are the same. if thats the case it will be a great help to check if both solenoids get a signal or not.
and to check the right solenoids
Also can anyone tell me the functions of my control board?
theres 6 switches/knobs and i know the function of 1(up down)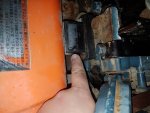 Is that the solenoid that controls up AND down? 3 wires going in.
Last edited: