Well-known member
Lifetime Member
Equipment
1979 B7100DT Gear, Nissan Hanix N150-2 Excavator
May 19, 2011
7,009
1,893
113
I'm way behind the times. I'm still using my original 9.6v Makita stuff.
(2) drills
RT angle drill
3 3/8 trim saw
Recip saw
Flashlight
(3) chargers
(4) batteries
Bought the first drill in about 1985, & I have replaced the switch in one & the clutch in the other.
I bought the first drill & the trim saw, the rest were gifted to me when my original neighbor in the high country sold out.
I think this may be the third set of four batteries.
I also inherited another drill & an impact drill from my FIL, but they were just beaten to death, so they were cannibalized for their few usable parts.
I also have a 10 1/2 Makita corded miter saw.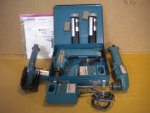 Last edited: