Part 1: Background
The purpose of this thread is to share the concept, creation, progress and performance of my custom Turbocharged Kubota L2501 HST 4WD tractor.
I'll start by offering my opinions on this tractor, why I bought it, how it's performed, the advantages and disadvantages, and why I chose to modify it in such spectacular fashion.
This thread is not intended to compare alternative tractors (smaller, larger, heavier models, different brands, etc.). That said, I will be making some statistical comparisons between Kubota's Standard L series tractors, since, they are all, basically the same tractor with varying cost and performance.
Let's begin.
My 2021 Kubota L2501 HST 4WD is my second tractor (third, if you include the garden-tractor variety).
I'm operating my tractor on 5 acres of undeveloped heavily wooded forest land. The property itself is roughly 500ft above sea level and the terrain consists of flat areas along with moderate and steep hills to the north and northeast.
My goal with the property is to transform the wild untamed forest and create a park-like appearance and atmosphere without disturbing too much of the natural beauty.
My tractor is used to grade and level land, till dirt, move dirt, move brush, skid logs, transport trees and logs, make trails through the forest, maintain our gravel driveway, remove stumps, chip wood and unload miscellaneous large items from delivery trucks.
Thankfully, I have a Zero Turn mower to maintain the grass, weeds and light brush.
When I first began shopping for a tractor I focused my attention on the sub-compact variety. I wanted a small, all-in-one machine, that could fit anywhere, feel comfortable, do tractor things, but also, mow the lawn. Friends, neighbors and co-workers familiar with my property quickly steered me away from such a small tractor and suggested I go bigger, much bigger. Most folks were urging me to buy a large compact or, small utility tractor. But that meant purchasing two machines, one for tractor work and one for mowing duties, which at the time, seemed unnecessary and rather expensive. Purchasing a smaller tractor with a Mid-Mount-Mower seemed to make a lot more sense. Further complicating my decision making ability was due to my ignorance and inexperience. I didn't fully understand the limitations of a tractor's size and weight. In turn, I wasn't fully able to comprehend the recommendations that were being offered to me but, knowing these suggestions were based on decades of experience, I didn't entirely disregard them. I just didn't think a larger tractor was necessary.
After cross-shopping many brands and tractor sizes, I eventually made a decision purely based on my own incredibly vast inexperience and purchased a brand new Kubota B2601. I was proud of my decision since I technically bought a larger tractor than what I was originally planning to purchase, hence, appeasing those that offered me their advice and wisdom. See I listened! Hooray for me!
Though, in reality, I didn't listen. The B2601 was nowhere near as big as the tractor I was originally encouraged to purchase.
Purchasing the B2601 wasn't a horrible decision. It was a great tractor (which I still highly recommend) and served me well, but it wasn't the 'right' tractor for my property and uses. The B2601 lacked the lift capacity, the size and weight required for removing stumps, carrying logs and heavy ground engagement work.
I'm sure most of us can agree, first hand experience is paramount. Nothing teaches you more than learning from your own mistakes. I welcome it. That said, I just hope my mistakes aren't too costly physically, or fiscally. Luckily, this one wasn't and within a year, I was once again visiting dealerships ready to purchased a larger tractor.
When you are in the process of tractor shopping, it's worth repeating some very wise tractor lore; Tractors in general, appear gigantic at the dealership parked side by side one another, and then, when you get them home, they mysteriously shrink! Have you noticed this? It's hilarious, but true!
After many agonizing (enjoyable) weeks of research and cross-shopping multiple brands and tractors I was drawn to and eventually purchased the Kubota L2501 'Economy' tractor.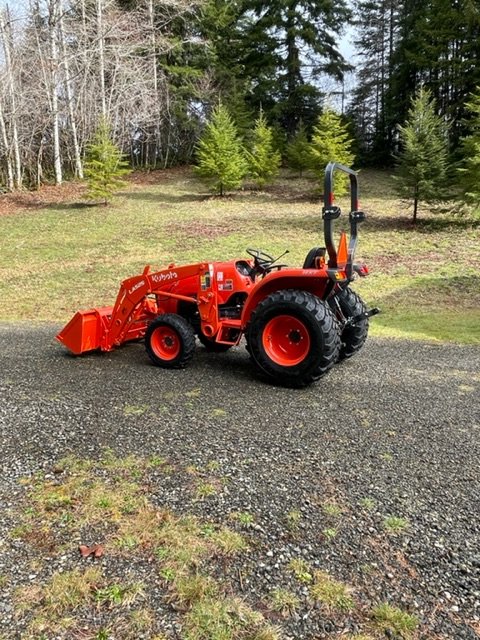 I purchased the L2501 for several reasons. First and foremost, bang-for-your-buck. You get a lot of tractor for the money. The L2501 also has an impressive track record for trouble free operation, build quality and reliability. Never a bad thing. Then there's the combination of it's size, weight, lift capacity and maneuverability. The L2501 is a real tractor made for serious tractor work. Furthermore, L2501's engine (D1703-M-DI-E4B) also produces an impressive amount of torque for its size, especially considering it is naturally aspirated and delivers exceptional fuel economy. Having owned several overly complicated and expensive modern diesel powered cars, trucks and SUV's, I appreciate simplicity. The L2501's engine is a simple mechanical diesel and isn't equipped with modern diesel emissions equipment, or electronics. Meaning it does not have a ECM (engine control module) or DPF (diesel particulate filter) and doesn't require emission Regen's which waste fuel and mandate high RPM engine operation. A huge bonus for sure! Another benefit is the L2501's popularity. It's one of the best selling tractors in the USA and has very good resale value (an important consideration when you're not fully confident in your purchasing decisions, like me).
All of these characteristics seemed extremely well suited for my property and intended uses. Plus, I was already familiar with the Kubota brand and I have a phenomenal dealer less than 40 miles away. Moreover, the L2501 was the tractor that many folks, including my dealer, originally recommended.
Whew! That's a TON of good stuff! Sold!
The L2501 is awesome but, is it perfect? Not quite.
So why isn't the L2501 a perfect tractor?
Several things, let me explain.
Last edited: