Well the UPS man brought my tiedown brackets from JU FabWorks today (8/26/23). I got the front and rear for my B and just the rear for my L.
I've already installed 5Eleven Designz front brackets for the L when I got the L's grill guard back in April. I do like JU's design for the L's front bracket better (it's continuous under the front grill guard, rather than two separate brackets). At the time I wasn't aware of JU's products. I learned about it here on OTT.
Cost was $89 a set, plus shipping. I did use the 5% GWT (GoodWorks Tractor) discount to essentially pay for 1/4 the shipping cost.
I ordered these on 7/8/23 (and my credit card was charged in full the same day). At the time the web site did advise me it would be 3 to 4 weeks until the B front brackets would be available. It ended up taking about 7 weeks to receive the parts. Unfortunately the vendor elected not to respond to my two status inquiries, but they did ship the same day as my second inquiry about a week ago.
The brackets arrived and are as advertised, with the two rear sets (B and L) being 3/8" in thickness and the front (B) being 5/16" in thickness. All of them having a nice shade of orange paint.
I am hopeful the front B brackets will fit, as advertised, in one of the three mounting positions to accommodate the mid mount mower mounting assembly. If not, I'll probably just "adjust" the mower's front bracket mounting handle on the right side to suit.
Below is an unboxing photo (I'm not cool enough to video it and put it on YouTube). There are two quarters in the photo for scale. The quarter on the plate standing edgewise is on the 5/16" thick front B bracket. The L's rear brackets are left of center, the B's rear brackets are right of center.
I'll post a few more photos once I get them installed in a few days or weeks.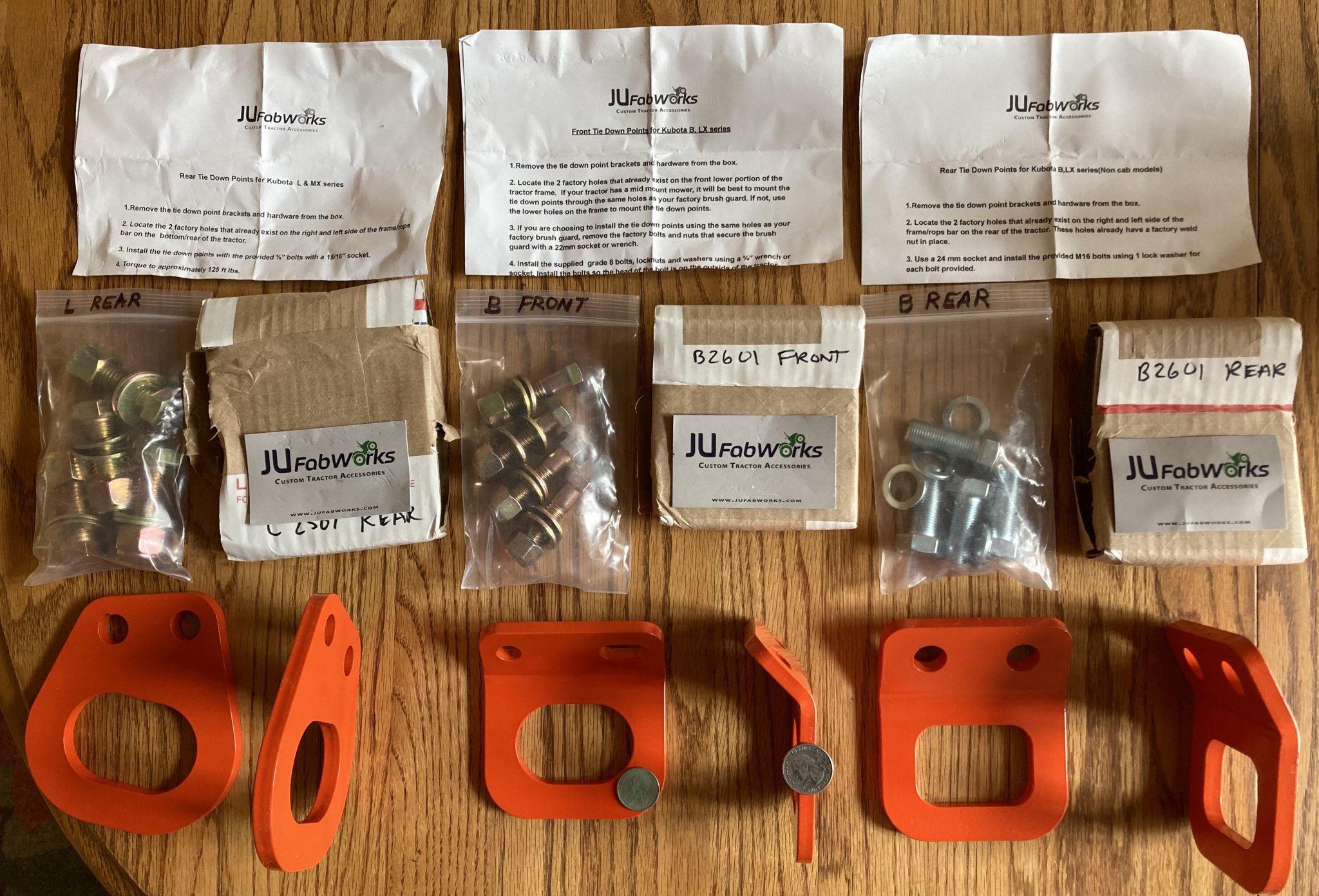 Last edited: