Hi everyone. Not sure if this is the right forum to ask this, but I was looking to fence in a section the land behind my house that is mostly wooded. It would be mostly black chain link (375') but would want the nice aluminum fence (60') in the two areas that would be viewable from the driveway or the street. There would also be five different gates. I got a quote from a local fence contractor of $16,000.
I didn't realize fencing was so expensive. Is this something I can do myself, at least the chain link portion, and if so, can I use my B2601 to help dig the holes? Or would you rent/buy an auger? The contractor said he uses a Toro Dingo (side note: the whole purpose of this fence is to contain my cattle dog, named Dingo) to dig the holes. I live on top of a mountain with very rocky soil, so I don't think digging holes by hand would be very effective. I've been reading everything I can on fence installs and it seems the consensus is that I should get the posts down 36" (I live in north NJ) and use concrete to secure the posts.
Here's a basic map of the layout: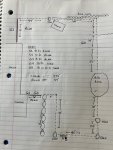 I thought that if I could do the chain link portion, I might just use the contractor to do the ornamental aluminum sections.
Thanks,
Franck