Active member
Equipment
Soon to be owner of Kubota B2601 Toro TimeCutter Model 7577
I have a question on which turf tires I should order on my B2601. My 1.6 acres is all lawn and sometimes a bit soft during early spring and late fall. I was thinking getting the wider turf tires to gain float understanding I will lose some traction. I intend to use the unit to carry stuff around for landscaping, firewood, and snowblowing. I have a separate zero-turn mower.
On a mostly flat lot with a nice lawn, would you go for more FLOAT or TRACTION (wider versus narrow tires)?
The rear tires with more "float" are 25% wider. They also appear to be 2" less in mounted diameter, so wonder if I lose an inch of ground clearance.
I also have noticed the wider 15" tire does have a more aggressive pattern to it .
Option 1 - more traction, rear 12.5" wide:
FRONT - 23x8.50-12 R3 Kenda Super Turf K500 FenWhl
REAR - 33x12.5-15 HF-1 Goodyear SofTrac (ABR8727 & ABR8779)
Option 2 - more float, rear 15.5" wide
FRONT - 22x8.50-12 R3 Bridgestone Pillow Diameter 1
REAR - 31x15.5-15 HF-1 Goodyear Xtra Traction
Option 1 left, option 2 right. Option 2 is more aggressive and wider.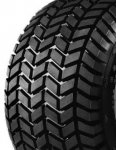 Last edited: