Active member
Equipment
BX24 & L4760HSTC
Somewhere in my post history you will find me asking about swapping wheels and tires on my L4760HSTC as I have R1's and they just rip everything up in the yard (except they are awesome when everywhere except the lawn)... so I was considering R4's, turfs and even the fancy new R14's... but a ton of money and just not worth it because part of the issue for me is the weight of the tractor and the type of soil we have. Then you will find a post where I was considering trading my L4760HSCT for a LX3310... but after driving one, I decided that was a "massive" downgrade... so after all that - I did what I should have done years ago to fix the giant ruts the tractor leaves in the spring and fall... $550 in gravel and about 6 hours total effort...
Used both the BX24 loader and backhoe, the L4760 loader and the Landpride land plane... Love it. Wife supported the project for the path to the greenhouse.
Here's from the driveway looking towards the greenhouse after the sod and soil are dug out 4-ish inches.
Looking down along the barn leanto - that small patch of gravel there is what I put in a few years ago so I could at least get to the snow blower without getting stuck in the fall. All the new gravel is to the same depth / thickness and that thing has been rock solid no matter HOW wet the ground is - so everything else should be about the same!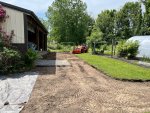 Looking back towards the house from the greenhouse path - all gravel has some very thick ground cover material under it. is it the fabric fro driveways - no - but this stuff works great for our sandy soil and holding the CR1 in place and not feeding it to the earth. small precaution that works very well on all the other places we have done this.
Barely buried water line used only during non-freezing months in the greenhouse - trenched it below the bottom of the grading and it's safely out of the way again.
Finished from the garage looking towards greenhouse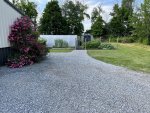 Finished looking down lean to side.
I'm thrilled I didn't get rid of the L4760 - I love this thing... and with this infrastructure improvement I can get on it even more often and not rip the lawn to holy hell!