Hi All,
My G5200 garden tractor came with a unique mower deck. It seems the original Kubota RC48 decks for the G5200 were made from a terrible metal that rusted. The previous owner of my tractor must have had the same problem so he was clever and transplanted the key parts of the RC48 to a Cub Cadet 54" deck.
Below are some details. It looks like he cut out the top deck of the Kubota that contained the gearbox and two outer spindles then welded this to a similarly cut-out CC54" deck. He also seems to have either transferred or fabricated the front attachment points and rear hanger points.
Note, most of the belt ways are the same but the angle of the tension pulley spring was changed. There seems to be an additional front right wheel too.
I hope this is helpful.
Transplant Body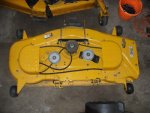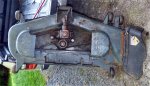 Weld Line
Bottom (Weld Lines can be seen)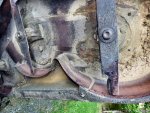 Hanger Bracket Detail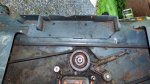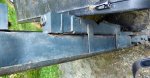 Front Bracket Detail
Last edited: