New member
Equipment
L3301
I have a L3301 with a flail mower. I am usually very careful when engaging the PTO. I usually have the RPM around 2,000 and then disengage the clutch slowly and then bring the RPM up to where i want it.
However, i had someone borrow my tractor and noticed that he has engaged the PTO at 540 PTO RPM without even using the clutch ! Went straight into gear ! I observed him doing this as i went to pickup my tractor. I did not hear any gear grinding..... just a clunk and the flail went from 0 to 60 in a quarter second !
He said he did this about 5 times..... does anyone know if this will cause permanent damage ? Or it can somewhat take a bit of abuse like this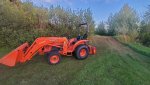 ??