Well-known member
Equipment
BX2370, B2650 grapple, tree puller, trailer mover, 3 point hoist, mower, tiller
Feb 21, 2020
1,657
949
113
This will be a long assembly post with many photos, you may want to bookmark it and read on a rainy day. You will need a root grapple to lift logs, A miter saw to cut multiple 4x4's and 2x8's to size, plus other wood working tools most home owners all ready have.
Let's start at the beginning. Have grapple, Got logs.
Have old log splitter. You only have to lift logs 12" to split them, but you need to dig a hole to stand in to use splitter.
Since I have 5 piles of logs, a firewood processor is the right tool for the job. Holy c@*% those are expensive. Well some You-tubers have fancy splitters with 4-way wedges and log lifts. Looking on-line they are expensive and made to order when it's your turn. The big box lumber yards and farm type stores only have hydraulic splitters with single wedges and no log lifts. With cycle times around 20 seconds, splitting an average log into 4 pieces of firewood will take 3 splits plus time to postion the logs (2 min for 4 pieces?).
If you have never seen a kinetic log splitter, they are single wedge and scary fast (2 sec cycle time). The biggest problem is the old beer belly isn't well suited for lifting, main reason for a grapple.
Firewood is typically cut at 16" lengths. Two 2x8's butted together is 15" wide. If I made 7 small tables 15" wide and 30" long, lined them up and set a log on top, logs could be cut to length and they are already at waist or log splitter height.
Making 7 identical tables even with some sort of assembly jig seems to be the biggest problem with this idea. After a week of wondering, how would a redneck do this? Inspiration finally striked when I considered 2 wooden ladders set on their sides with 2x8's across the top and bottom. Some simple jigs would speed up the assembly process.
Purchased 12 - 4x4x12' treated boards, 11 - 2x8x12' treated boards, 3 - 2x4x12' trested boards, 1 -1x4x8' board to be cut up for assembly jigs. Why 12' boards? Green treated lumber is heavy and 12' is about the limit of what I can "man handle".
Love using power lag screws, bought 2 boxes 1/4 x 6" Spax, 3 boxes 1/4 x 3 1/2" Spax
Assembly jigs
: cut 1x4 board into following sizes 1 - 3 1/2 ", 4 - 5", 2 - 20" (18" would work).
Locate center of 3 1/2 board and drill hole, add some scrap to 2 sides. This will be the drilling jig.
The 5" pieces are screwed to the 20" boards with an interior spacing of 15 3/4". It is important to make 2 identical jigs. These will be the assembly jigs.
Before cutting the 4x4's, select the 4 straightest boards for the top and bottom rails.
The "legs"of the tables are 24" in length. A miter saw with an adjustible stop is needed for all cuts to be identical pieces. 28 legs will be needed. The legs will be attached to 2x4's using 6" Spax screws, 1 at each end. the drilling jig makes the screws centered on each leg.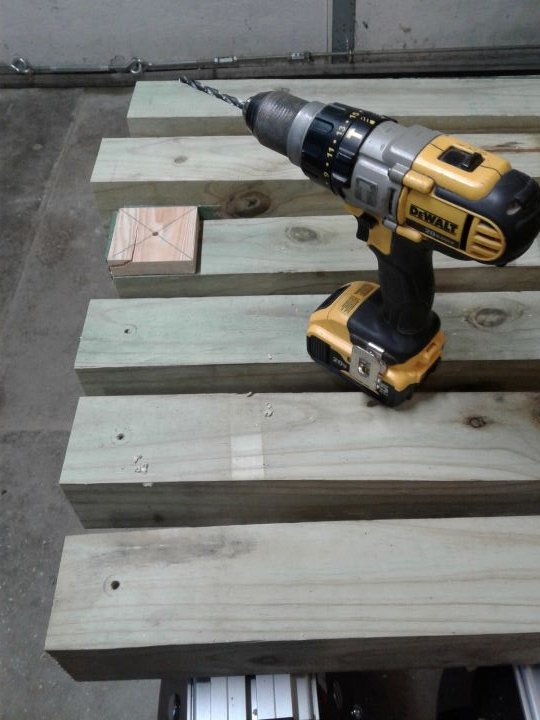 Side Assembly:
Place 2 10' "rail" boards on the floor 24" apart. Positioning the first leg is critical use framing square to get the proper alignment and fasten with 6" spax screws. Verify spacing at the opposite end. The assembly jigs are used to position all of the 24" "legs"
Position jigs over 1st & 2nd leg. Slide 2nd leg against jig and screw it down, this gives us a spacing of 15 3/4". Slide the 3rd led against the jig and screw down. This will become the gap for the chainsaw bar.
Continue moving the jigs and position the additional legs.
Stand the side on end and build the other "side ladder" When finished stand the 2nd side up in the opposite direction. You probably noticed these side assembly's are heavy. We will now build these upside down so the stand only was to be flipped over 1 time.