Member
Equipment
L2501, JD 655, Ford 841
Having just taken delivery of my L2501 two weeks ago the first thing I wanted to do was add more protection to the grill and radiator area. I have a wicked 55 grapple on order and there is no way I'd want to attack any brush without first installing some sort of brush guard. The factory FEL guard leaves a lot to be desired in the way of protection.
I had a two month wait for a loader after putting a down payment on my new L2501 so I had plenty of time to look at all the aftermarket brush guards available out there. I roamed the forums and the youtube videos. I even considered the 50 year anniversary L3302 factory grill guard with side guards but they all lacked one thing: The maximum grill protection I was looking for. That left me with only one choice. To build my own.
The nice thing about the LA526 loader is that the grill guard is already punched out for carriage bolts. This meant that I wouldn't have to drill any new holes or weld anything to my factory grill guard. That was a plus for me. I hate having to molest my new tractor.
I wanted my brush guard to wrap around the factory guard to provide more protection from the side. All the prefab guards out there only fit the width of the factory guard and fall short on real protection. I decided to fabricate my guard out of square tubing for strength, perforated sheet metal, and angle iron. I started with simply taking some measurements, making some cuts, and framing out the guard.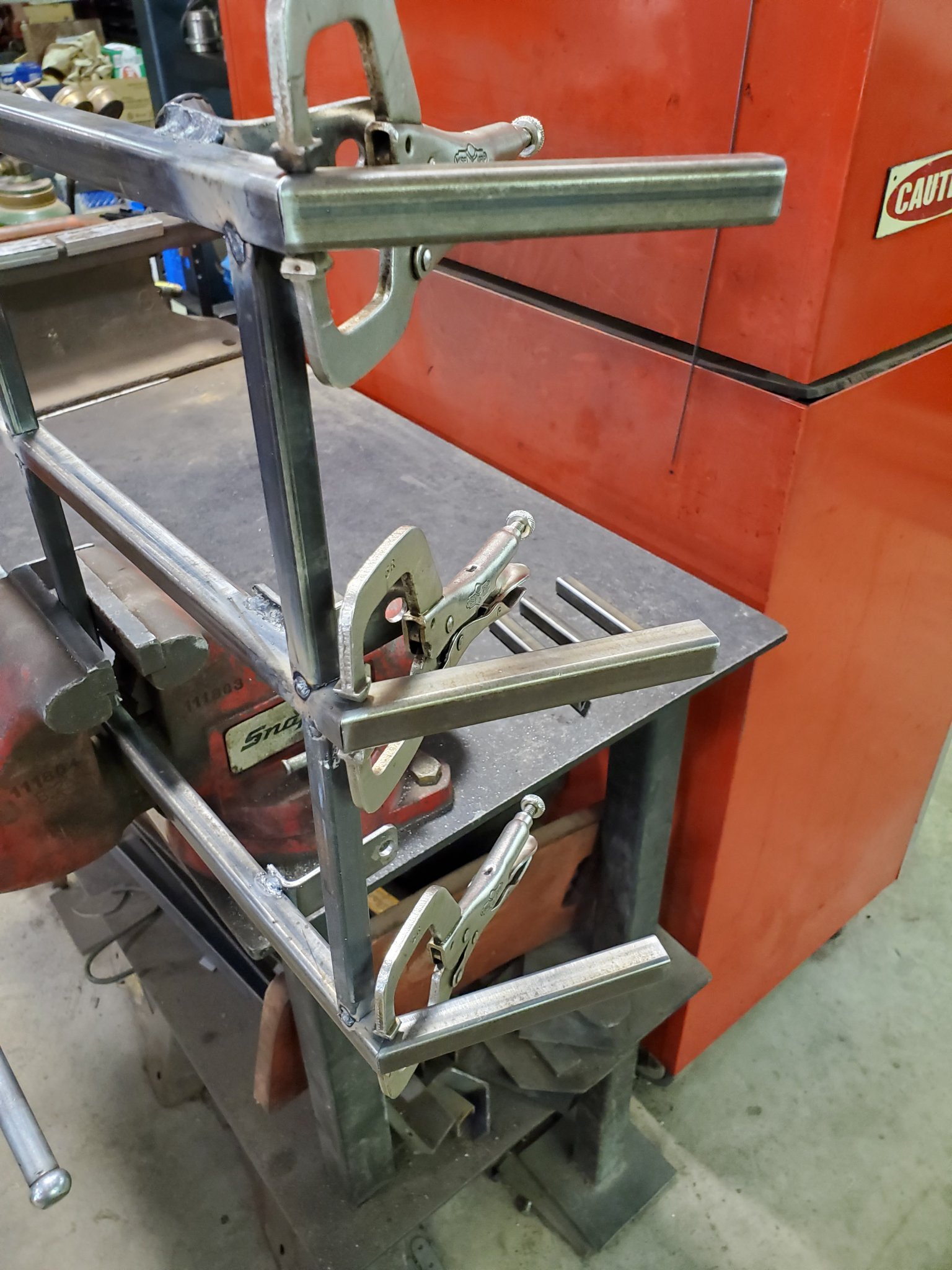 Once it was tacked together I gave it a test fit to see how it looked. There are a couple things you have to work around. One is the movement of the factory guard when it swings forward to allow clearance for the hood to be raised and the other major factor is clearance when the FEL is raised.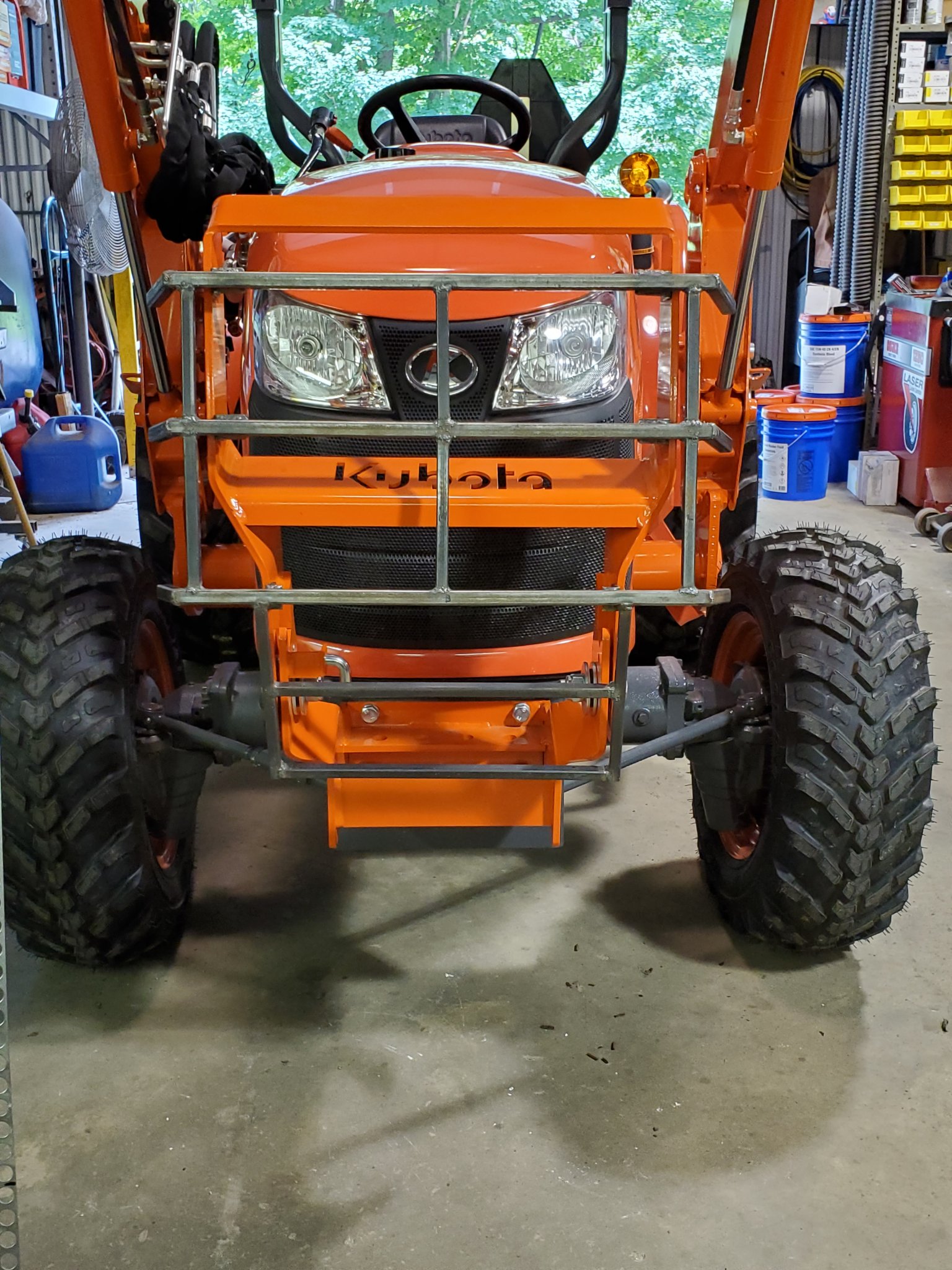 After checking the fit and the clearances were confirmed everything was welded and the next step would be to bend and attach the perforated metal sheeting. I started with a 2'x3' sheet and the goal was to make my guard out of the full sheet rather then in sections. It was clamped in place to anticipate my next step.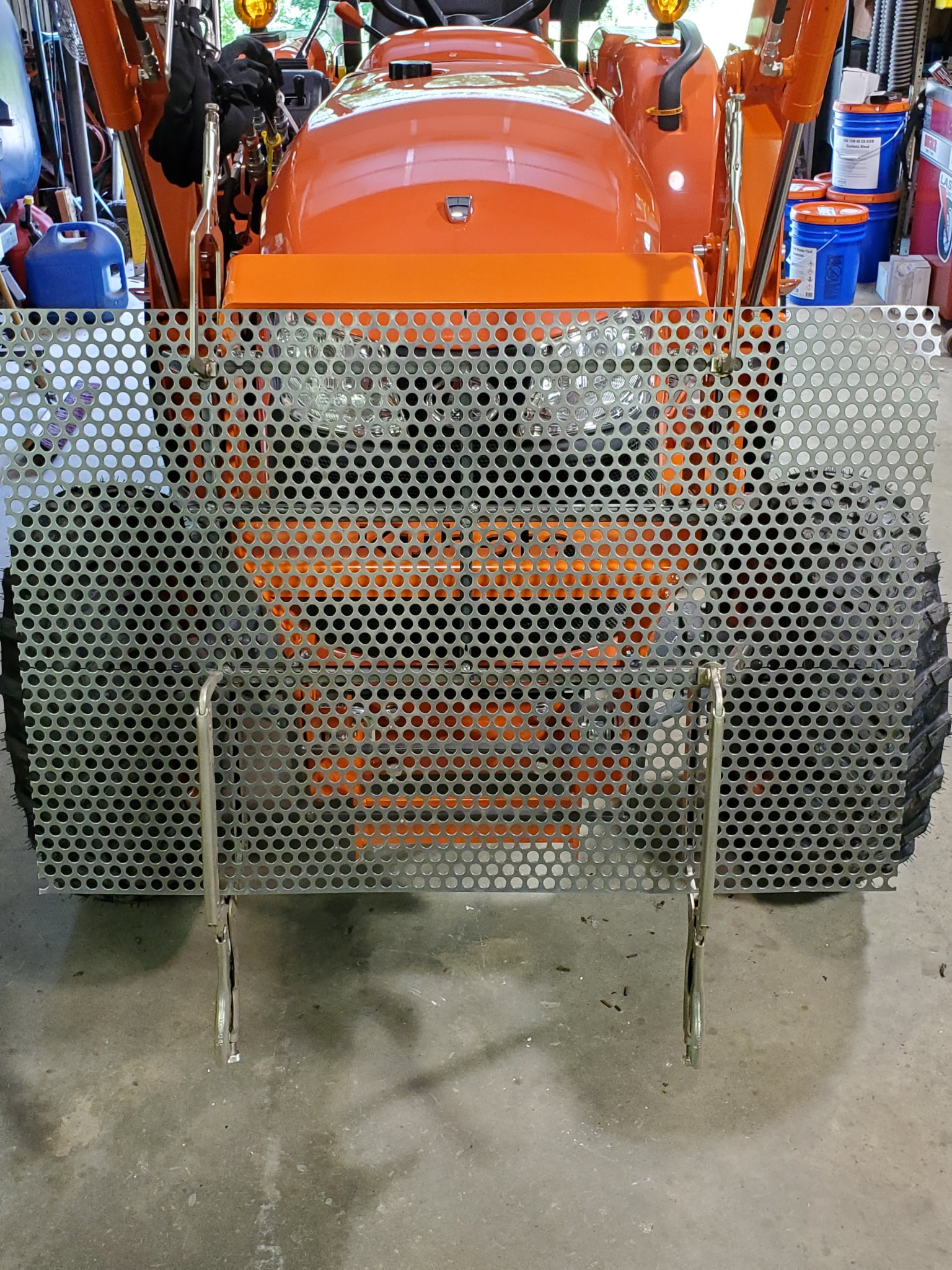 A couple of bends, some vice grips, and a couple of cuts and it was coming right along
Next was to add some 1/2' angle iron around the edge for support and protection from the sharp edge of the perforated sheeting.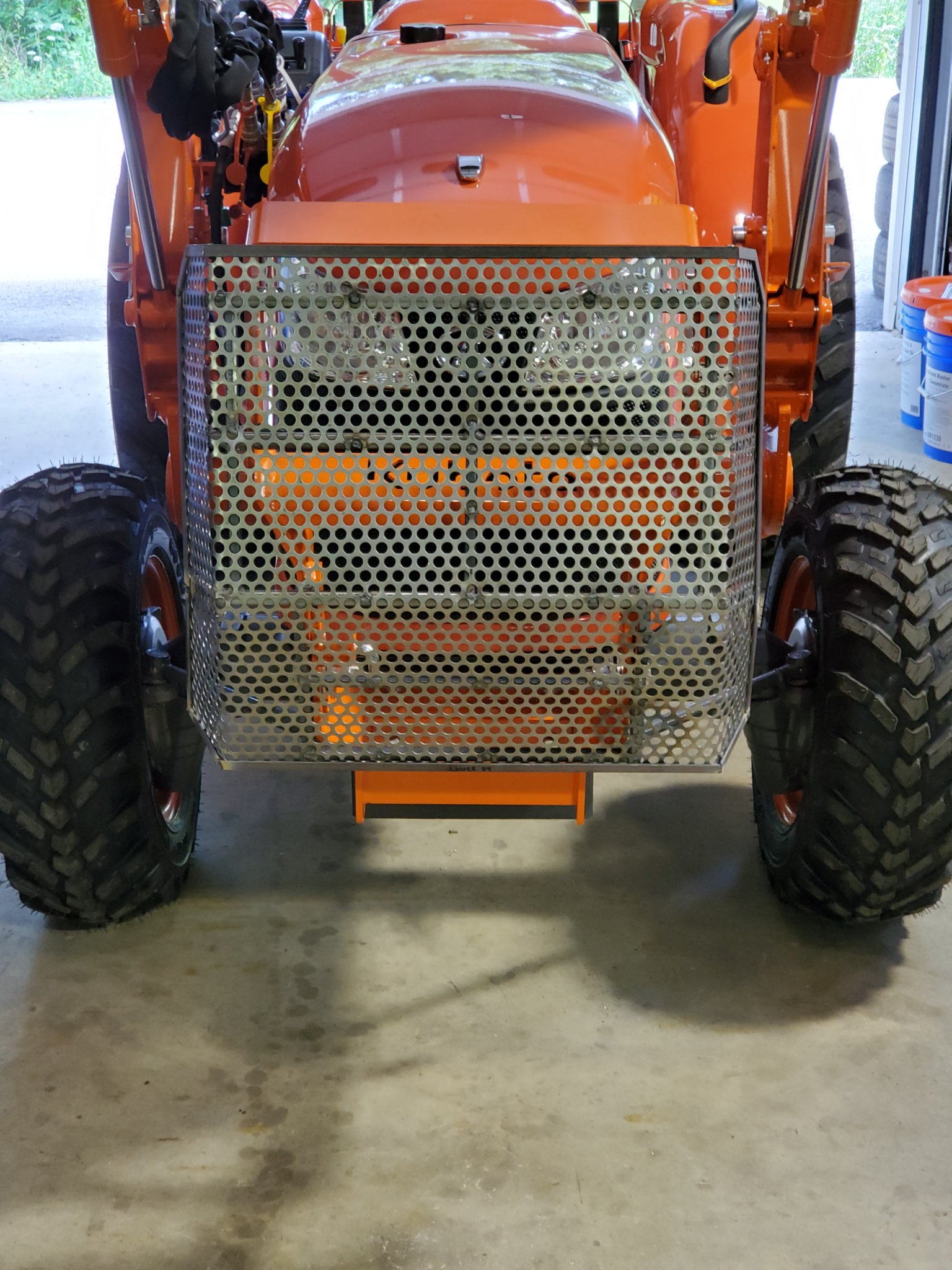 Lots of angles, lots of cuts, and lots of welding.............
Once it was all welded together it was time for wire wheeling, touch up grinding, and prep for paint. Once all that was completed it was time to install the finished brush guard.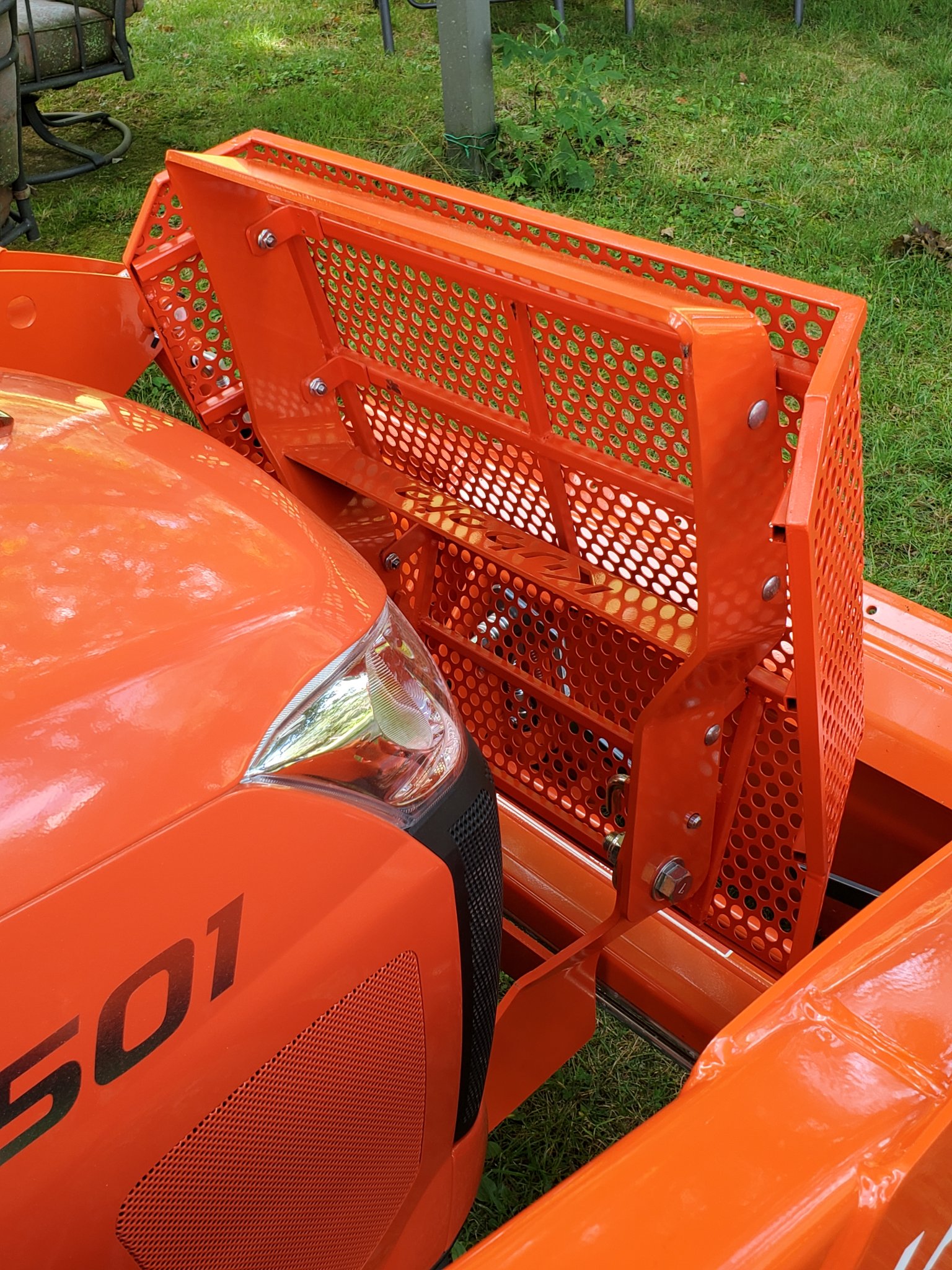 Whats next? I'm thinking some filter guards, a chain bucket behind the grill guard and possibly some tie rod protectors............