Member
Equipment
L245 DT, front loader, backhoe, bushog, planters, grain drill, fertilizer sprea
1977 Kubota L 245DT, Front End Loader L 1200
Hi Guys,
It seems like I fix one thing and something else goes out, after getting the clips in the transmission on and grinding the dog ears off the gears as needed, getting a new front tire, changing all the fluids and filters and putting a new bottom in the bucket, I put the old girl to work, when a hose on the front end loader blew out, after changing the two hoses on that cylinder another one went out, course they are all 43 years old so I replaced all the hoses to be safe.
Now the hydraulic pump case has developed a crack in it, not sure if it's just metal fatigue or I did it when tightening up on a fitting as it's where the hose connects that goes back to the controls. It's not a big wide crack but it's long, inside and outside as well. I'll include pictures as I got it off the tractor and took it apart after a good clean up, I hi-lighted the cracks with a black marker so they showed up better.
Take a look at the pictures and your thoughts on if it could be welded up or not, the crack on the inside bother me the most as the gears that spin around on the inside are tight against the sides of the case and it would be hard to grind the welds there for a good fit. I thought if it was clamped in a vise to close the crack up then welded on the outside maybe it would hold. The crack also goes into to where the fitting screws on as well.
I been looking on line for a replacement pump but not sure if they will work or not. This is a Webster pump and I figure it's not made now, plus the ones I seen on line are similar but have different connections as my fittings screwed directly into the pump and the new ones bolt to it.
Then there is the shaft that connects to the motor that turns the pump, still trying to get the set screws to come loose as they are not wanting to turn at all, any ideas as to what I can soak them in to loosen them up or how to get them out, I appreciate advice on that as well.
Guys, any advice is greatly appreciated on my part since I know some of you might have run into these problems before, right now I'm dead in the water.
Does any one know or have any specs on this pump, like gallons per minute it pumps?
Thanks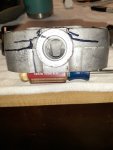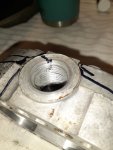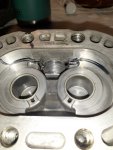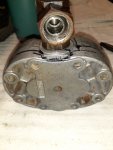 Last edited: