Active member
Equipment
B2601HSD, LA435/QA 54", LP SGC0554, BB1254, PFL1242; WC-68 Chipper
I am in the planning stage of refurbishing my Jonesered 2050 Turbo chainsaw and have posted some pics here; I'm interested in user advice or suggestions for this small project.
I've owned it for over 20 years, but haven't used in the last ten; during that time it has been stored un-fueled in my garage. Owner's manual is (for now) MIA. It's got an 18" roller-tip bar and is basically completely 'stock' other than it's 3rd chain & 1 spark plug. I haven't tried starting it but I'd bet that it probably would. I'm also interested in suggestions for related chainsaw forums to lurk for additional info.
I considered just buying a new Stihl or Husqvarna but haven't researched that yet. I'd like to install a new 16" bar with 3 new chains and am seeking advice from knowledgeable members on this plan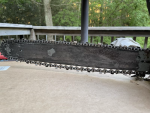 . I'd also like to hear from members on specific procedures for disassembly/reassembly and what new parts might be advisable. I'll probably re-use the original muffler (rusty but intact), new spark plug, etc., etc. Thanks in advance for any help!
Last edited: