I'm not sure what they weigh but they are too heavy for me to wrestle.
I put 1/2" lag bolts either side and lift them with the pallet forks on to the splitter.
Slow going but I don't have a faster way.
Pick the cleavage line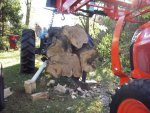 Bam!
I drive it over to the splitter flat on the forks, then get the chain on the lag bolts because it swings on the chain and might hit the tractor.
It's easy to stand clear as it falls in half.