Well-known member
Lifetime Member
Equipment
Kubota B2650 and lots of other equipment
Feb 24, 2019
1,427
1,162
113
These 3 piece sets (Front & 2 sides) custom fit the above models. They are made to be an easy on/off without requiring any tools as they are held in place with magnets.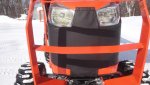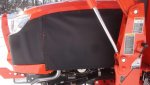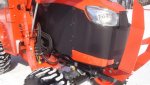 See this thread for my write up with description, pics, benefits, reviews, etc. on the B2650.
B2650 B3350 Winter Front Covers
2022/2023
B2650 or B3350
: $220 per set (includes shipping for US) Shipping to Canada $25US extra
2022/2023
LX2610 or LX3310
: $235 per set shipped to US. Shipping to Canada $30US extra. See Post #21 below for pics and details. Link to pics:
LX2610 LX3310 Winter Front Covers
2022/2023
Kubota B2601
covers are now available: $205 shipped to US. Canada extra.
Link to the pics:
B2601 Winter Front Covers
2022/2023
Kubota L3560, Grand L 60, and other '60 series
: $260 per set delivered in US. Canada shipping extra.
L3560 winter front pics:
Kubota L3560 and Grand L 60 Series Winter Front Covers | OrangeTractorTalks - Everything Kubota
Grand L'60 series pics
here
2022/2023
Kubota BX2230, BX23S, BX1880, BX2380 (BX80 series)
tractors. Start a conversation for info.
Currently priced at $85 delivered in the U,S. Shipping to Canada will incur a small extra postage surcharge. BX cover pic
here
.
"Start a Conversation" with me for availability and to order.
Or contact me via email: dbratager (at) midco (dot) (net)
Make sure to check your "trash or junk" folder if you don't see a response from me.
Some interesting threads and pics:
Air Filter Clogged With Snow
Last edited: